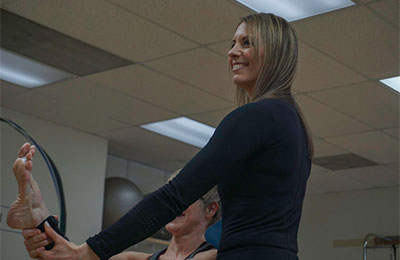 Marie Roth, Studio Director
Marie Roth is a teacher trainer with Power Pilates in NYC. She is currently the Regional Director for Power Pilates in Washington and Oregon and is Pilates Method Alliance Certified. After excelling in college volleyball and basketball, Marie turned her passion for fitness into working as a group exercise instructor in 1996. In 2005, Marie fell in love with Classical Pilates. This passion inspired Marie to become a full-time studio instructor. Marie received her Power Pilates Teacher Training Certificate under the guidance of Bob Liekens and Susan Moran in New York. Along with Pilates, Marie has certifications from MOSSA in Group Blast, Group Core, and Group Centergy. She is also certified in Vbarre and YogaFit. Marie received her Masters in Counseling from Lewis and Clark College and has coached two high school volleyball teams to state championships. She is most grateful for her husband and her two amazing boys.
Lynda Taylor
Lynda Taylor graduated with a BA degree in Chemistry from San Jose University. She initially joined the Courthouse with the intention of taking group classes to maintain her fitness. When she started taking Pilates Mat, she found it to be the perfect complement to the aerobic and strength training classes she participated in, and a new passion was discovered. She has been a Pilates trainer since 2009 and holds certifications through Power Pilates in NYC for Beginning and Intermediate Systems, and Beginning through Advanced Mat. She joined the Courthouse team in 2004 and is certified/licensed in several formats including Chair Yoga, Silver Strength, Silver Stamina, Zumba Gold and Mat Pilates. Lynda loves training in a social atmosphere and decided to share that love for exercise with other Courthouse members. She feels grateful to have helped many clients reap the benefits of exercise in their daily lives. Lynda is married with four grown children and enjoys hiking, bird watching, and biking in her spare time.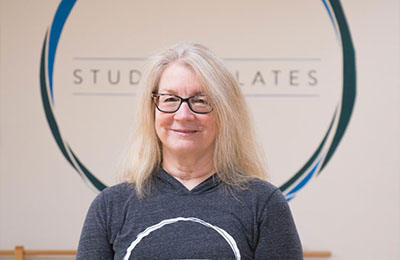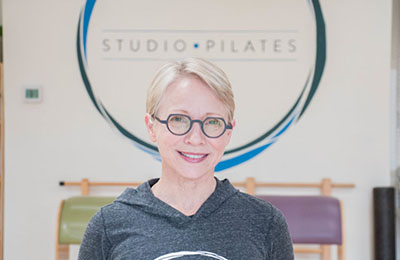 Janet Wise
Janet Wise is Power Pilates certified in beginning, intermediate, advanced mat, and comprehensive apparatus studio instruction Pilates. Over the last forty-five years, she has shared her love of fitness by teaching ballet, gymnastics, dance aerobics, step aerobics, water aerobics, and weight training. When she's not teaching a class, you can find her looking for treasures at thrift stores or local garage sales. Married with three adult children and nine grandchildren, Janet feels that life is an adventure and every day is a good day!
Stacey Brown
Stacy Brown is a graduate of UC Davis and UCLA and has been teaching at the Courthouse since 1981 as one of the original group exercise instructors. She is Power Pilates certified in Mat 1 and 2, System 1 and 2, Yoga Fit and Senior Yoga Fit. In addition, she is MOSSA certified in Group Power, Group Step, and Group Active and teaches tap and Irish Dance. She feels that Pilates has been the best thing that has ever happened to her body and teaching fulfills her wish to help others heal in order to live a pain-free life. Stacy is married with three grown daughters and enjoys spending time with her friends and family at local microbreweries where you can find her with a stout in hand.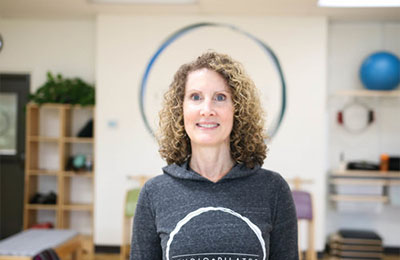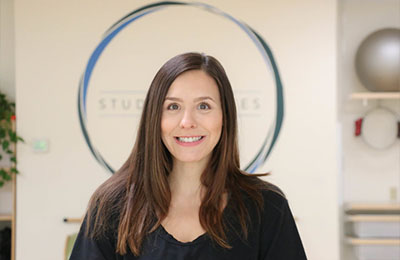 Elise Heil
As an athlete and dancer, Elise Heil fell in love with the benefits Pilates offers and became a certified Pilates instructor in 2008. Despite a passion for movement, Elise suffered from chronic back pain and thought it would be a life long struggle. Through her Pilates practice, her pain has diminished and she is driven to help others who deal with pain. Teaching Pilates has given her the opportunity to help others find strength and connection with their bodies. Elise participates in continuing education so she can offer different approaches to client concerns. Her expertise in observing and assessing movement, allows her to develop strategic treatment plans to improve dysfunctional patters of body movement, all while educating her patients on ways to improve and avoid future injury.
Brittany Espinoza, Studio Manager
Brittany has a been a dancer since her childhood and her love of dance led her to study at San Francisco State where she received her BA in Dance. Due to injuries, Brittany found herself in a Pilates Studio. Naturally falling in love with the blend of technique, precision, and grace. Something Dance and Pilates both embody. It was natural to connect the mind, body, and breath together. During her career as a professional dancer in San Francisco/Bay Area, she became Barre Pro certified, a studio trained instructor in Pilates Group Fitness, and a Qualified TRX Coach. After relocating to Oregon, Brittany has completed her Core Mat I & Core Mat II of Power Pilates NY, MOSSA Centergy, and a Zen Barre certification. Brittany shares her love of movement around the Courthouse clubs. Her intention as a teacher is to raise awareness and mindfulness with each student's practice, as well as incorporate the physical and mental disciple pilates offers.